Latest News:
November 2019: Thirty West Publishing House has published three new poems, "The Body Perfect", "Danaë Downpour", and "Alrescha" -- available to read here!
August 2019: New poem "Gnomons" is featured in issue #5 of SurVision Magazine. Read it online right here.
June 2019: "The Keeping of Lights" is currently featured in the 27th Annual Poets House Showcase (June 27, 2019 - August 17, 2019) in New York City. Stop by to check it out and enjoy this unique national poetry library and literary center!
---
The Keeping of Lights - Buy now »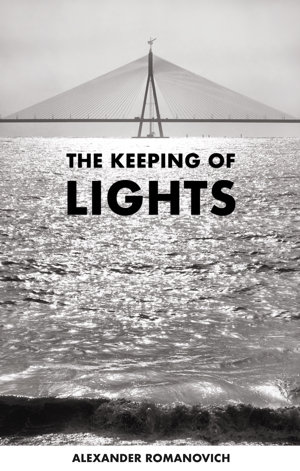 The Keeping of Lights is a collection of new poems from surrealist poet, Alexander Romanovich. In this volume, the author's poetic sensibility lures readers far away from the mundane and conventional experiences of daily life to uncover a more revealing world - exotic, dreamlike, full of mystery and mythology. The sensual imagery and marvelous landscapes of the mind act as a stage for an odyssey of love, metaphysical discovery, memory, and personal transformation.

Selected for the 2019 Poets House Showcase in New York City, The Keeping of Lights was featured in an interactive exhibition celebrating recent works of the poetry community.
Poems in this volume:
Here Or Elsewhere
Under The Olive Trees
Into the Susurrus
At A Distance
A Place of Sleep
The One Whom You Have Hidden From
A Very Old Language
Morning Glory
Blood Orange
Traveling the Night Rails
Quies et Silentia
Auletrides
Hamadryads
A Witch's End
Halfwaylands
The Vitruvian Man
Inai-Inai-Baa
Fiddler's Green
Halve Maen
Keeping Lights
The Blue Fields of Brizo

Last Days of CPMU
Kalymnos Honey
Nothing Not No-one
Windlass Shanty
Impossibilities
Come Spring
How Far We've Come
Walkabout
Clepsydrae
Strange Nymphai
Hide-And-Seek
The Lover's Mytheme
Down The Garden Path
Deliverance
Go Figure
A Strange Flowering
The Art of the Quick Change
If I Happen To Forget
The Cinnamon Woods
In A Windless Place
21,778
Published January 2019.
Available for purchase online!
---
Mythopoeia - currently out of print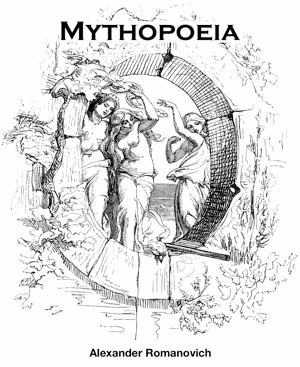 In this collation of poetry, Romanovich recalls the imaginative and marvelous poetics of the original Surrealist movement in France, led by its founder André Breton. Adhering faithfully to the central goal of liberating the imagination, these poems range from the whimsical and the mysterious to the exotic and dreamlike. Through each one runs a current of mythological themes, reimagining the universe through a paradoxical and transformative genesis. His sensual yet startling juxtapositions will delight and surprise readers willing to take the plunge into the depths of the subconscious mind.
Review of Mythopoeia:

Both the Symbolist poets and the Surrealist movement set out to wage war on logic, linearity, and reality. NYC Poet Alexander Romanovich takes up the charge with his chapbook, "Mythopoeia." This volume is filled with startling, wonderful images, neologisms, and portmanteau words that soar off the page. Infused with the amorphous logic of dreams, and an adherence to texture makes this not so much a book of poems as much as a book of spells. In spite of the obscurantism rampant in these pages, there is a crystalline clarity to the moods that Romanovich evokes. Rather than dwelling on darkness, the author creates complex images full of luminous tranquility. Romanovich's work arises from the same hallowed ground that gave birth to the glossolalia of such musicians as Sigur Ros, Cocteau Twins and Lisa Gerrard (an admitted influence - a poem here is even entitled "Yulunga").
-- Craig Laurance Gidney, author of "Sea, Swallow Me", "Skin Deep Magic", and other fiction
Poems in this volume:
Maidenhorns
Circle of Stones
Aria
Chanson Des Chansons
With
Remains of Ancient Days
Per Meditabor Ad Astra
Homecoming
Lilliputians
Lepidoptera
Geography
Wake
Beast of Seasons
Firelight
Picture Books
Sobriquet

Free To Speak
Edredon
Farewell
On Meridian
Oval
Journal Entry
Excursions of Light
Wheel of the North Star
Yulunga
The Brotherhood of Water
Wonderhood
Isolde's Dream
A Child Falls Asleep
Aperitif
The Forest Fermenting
---
About the author:

Born in Providence, Rhode Island, Alexander Romanovich now lives and writes in New York City, and has been actively engaged in Surrealism & Surrealist activities for much of his life. This work has involved writing poetry and fiction, group collaborations, performance, as well as film and video production. He is a graduate of New York University, where he earned degrees in both film and psychology. Alexander is continually inspired by a love of mythology and metaphysics, topics which regularly influence and shape his work.
---